Other Products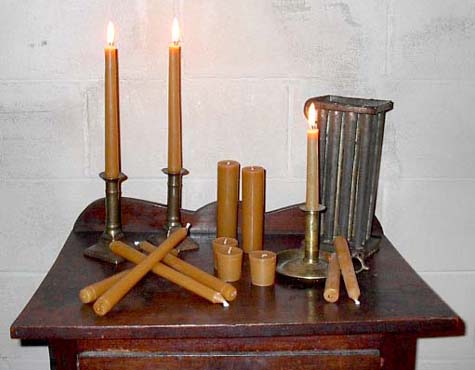 100% Beeswax Candles
For many years I have been making pure beeswax candles using the old-fashioned tin molds. These beautiful, golden colored candles are long lasting and have a soft natural honey scent with out the need of introducing chemicals or oils which affect the clean burning properties of the beewax.
As with all flame, no candle should ever be left un-attended.
Candle Prices:
6" Tapers
$2.25 ea.
9" Tapers
$2.75 ea.
Votives
$2.75 ea.
6" Columns
(This candle will burn approx. 24 hours)
$6.00 ea.
I also sell the hemp twine that I use for making tumplines as well as a hemp thread that is very good for sewing leather. This thread is stronger and much smoother than the linen available today, as well as being more rot resistant. The twine is much softer and smoother than that which is commonly available and I find it much easier to work with than any other I have found.
Prices for Hemp:
48 lb. Test - 200g ball (approx 400')
$7.00 / ball
20 lb. Test Natural, 100g ball (approx 400')
$4.00 / ball
20 lb. Test Dyed, 100g ball (approx 400')
$6.00 / ball
Heavy Thread 50g spool (approx 400')
$6.00 / spool